Step 2021 Sessions - 𝗦𝗪𝗔𝗥𝗔𝗝@𝟳𝟱
STEP-A national level conclave on the state of nation
STEP: State of the Nation Conclave II As Bharat stands at the threshold of an era, witnessing a revolutionary review of Global Economic, Cultural, Technological and Political order, seeking to redefine and reclaim a lost glory, the national fabric is being subjected to million mutinies. Ever since the decisive power shift that occurred in 2014, Bharat has been engaged in seeking a global position of power. In these times marking national resurgence, with global attention and acclaim on Bharat, there seems to be an emergence of a deliberate movement to spread negativity and fear, as being reflected by a section of media and prejudiced intellectuals. There seems a systematic effort at creating disorder to please or protect vested interests and hence, there is a dire need to reflect on the present state of this nation and present an objective picture about the age and times we are living in. Beyond the hype, hypocrisy and hysteria, Bharat needs to be understood and presented as a proud and rich civilization. This annual event to be known as a State of the Nation Conclave would be an attempt to counter malicious propaganda and present a positive and powerful image of resurgence and reality. To launch a flagship program to profile the Social, Technological, Economic and Political Transformation of Bharat, we are extremely glad to invite the participation and contribution of thought leaders of the highest esteem.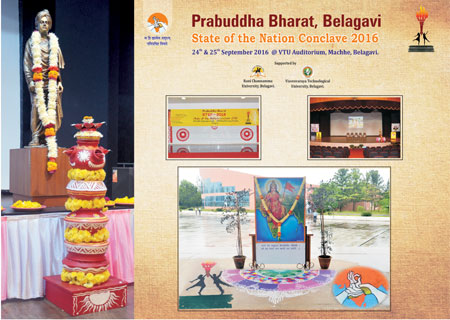 ---
Prabuddha Bharat is an association formed to celebrate SardhShati Samaroh (150th Birth Anniversary) of Swami Vivekananda in the year 2012 with the objective of spreading nationalistic thoughts among the intelligentia and the youth comprising of professionals from across society including Industrialists, Accountants, Advocates, Academicians, business people, public servants and students.
We are engaged in encouraging a positive participative and a pragmatic perspective towards nation building. We are happy to state that in these 6 years we have organized over 15 public discourses regarding various issues of national importance by extremely distinguished speakers such as Shri Datta ji Hosabale, Dr. Swami, Prof. Vaidyanathan, CA MRV, Scientist Sateesh Reddy, thinker Shri S. Gurumurthy among others. The response and reception for our initiatives have been overwhelming in the intellectual space drawing over thousand regular audiences for the events.
---